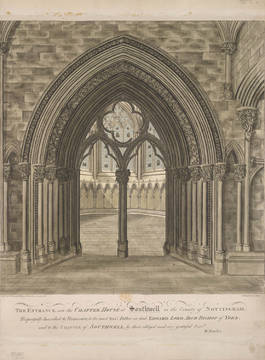 Title

THE ENTRANCE into the CHAPTER HOUSE at Southwell in the County of NOTTINGHAM. ; Respectfully Inscribed (by Permission) to the most REVD Father in God, EDWARD LORD ARCHBISHOP of YORK and to the CHAPTER of SOUTHWELL, by their obliged and very grateful Servt W. Fowler. / W. Fowler Delt et Fecit.

Creator

Fowler, William, 1761-1832, artist, printmaker, publisher.

Publication details

[Winterton] : Pubd Octr 2d 1809 by Wm Fowler, Winterton, Lincolnshire, [October 2 1809]

Physical details

1 print : etching with monochrome wash and watercolour ; sheet 61.3 x 45.4 cm

Description

An elaborate pointed entrance arch containing two smaller trefoil arches and a quatrefoil; the doorway looking through to a chapter house and stained glass windows. This print is accompanied by a letterpress description and list of subscribers at Maps K.Top.33.35.d-1.

Place

Nottinghamshire (England)

Shelfmark

Maps K.Top.33.35.d-1.