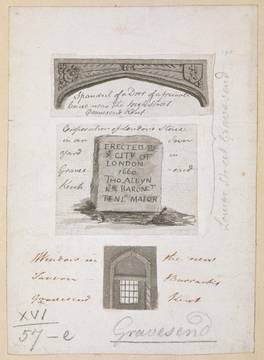 Title

Spandril of a Door of a private house near the High Street, Gravesend, Kent. : Corporation of London's Stone in an Inn yard in the Gravesend Kent. Windows in the new Tavern Barracks, Gravesend Kent.

Publication details

[about 1770-1790]

Physical details

3 drawings on one sheet : pen and black ink with watercolour ; sheet 2.7 x 7.3 cm; sheet 4.9 x 6.3 cm; sheet 2.8 x 2.5 cm; on support sheet 15.6 x 11.1 cm

Description

Three drawings stuck down onto one sheet. drawings depicting door sculpture, a stone tablet and a window. Titles inscribed in black and brown ink. The upper two images inscribed 'Lower Street Gravesend' in pencil.

Place

Gravesend (Kent, England)

Additional information

The New Tavern fort was begun in 1778.

Shelfmark

Maps K.Top.16.57.e.